Past Players of the Week
(But they're all Players of the Weeks in our hearts, right?)


Player of the Week for 11/17/98-11/23/98: Jason Elam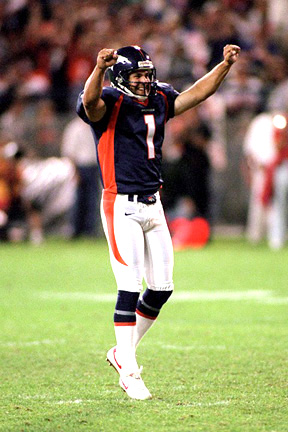 Why?
If you have to ask that question, you have not been watching the Broncos for the past ten games. Elam has done an amazing job as a place kicker this year. Not only has he earned 84 points for our team, making him the 2nd place scorer on our team (first is Terrell Davis), but he also has a 100% average in kicking the after-TD points and field goals. He has not just rocked this season, but every other season as well. In his 6 years in the NFL (all 6 were with the Broncos), Jason has placed 201 out of 202 kicks. That means he has a 99.5% average in kicking, which is the best in NFL history.
Recently, during the Jacksonville game, Jason kicked a 63 yard field goal, tying the pro football record for longest field goal and demolishing the club and franchise records for longest field goal. His last miss with a field goal was in. . .1993!! Wow, Jason Elam. You are so amazing. Keep up the good work!


Player of the Week for 11/11/98-11/17/98: Bill Romanowski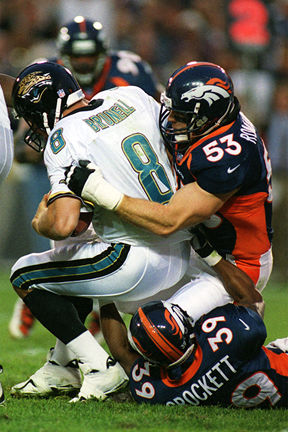 Why?

Bill Romanowski has played in the NFL for the past 10 seasons, and out of 160 games played, he has started 139 of them. Three of his years in the NFL have been with the Broncos. He has never missed a game due to injuries in all 10 seasons (impressive), and has started the last 48 consecutive games.
This season, Bill is third on the team with 57 tackles, 42 accomplished solo. This season he has achieved his career-best 5.5 sacks. Bill has also had 2 interceptions, 5 passes defensed, 3 forced fumbles, and 1 fumble recovery. In the game against San Diego, Bill made an excellent play when he forced Natrone Means to fumble on the Denver 2-yard line. The fumble was subsequent recovered by Maa Tanuvasa on the Denver 3, giving Denver control of the ball again. Good job, Bill!
I think that over the past two years Bill has been seens as somewhat of a rabble-rouser, because of his sometimes attitude tinged playing. I say, more power to him. He scares the other teams with his aggressiveness, and what more do we want from a defensive player than someone who can scare the crap out of the other team's offensive line. I was recently travelling back to Berkeley from LA, and I flew back with about 100 Raiders fans (yeas, I showered for hours afterwards!). One guy on the plane told me that the most obnoxious players on the team were Shannon Sharpe and Bill Romanowski, and that no player wanted to come up against Bill on a bad day. It seems he is doing his job then.
Player of the Week for 10/11/98-10/17/98: Glenn Cadrez


Why?
Glenn Cadrez is a middle linebacker who has started all six games. This is his first real Denver season making big waves. He is second on the team with 30 tackles, 25 of these being solo tackles. He has also had 2 sacks this season, one pass defensed, a special teams tackle, and 2 forced fumbles. What makes this player our player of the week is his performance in Sunday's game against the Seahawks.


Specifically, what made Glenn extraordinary on Sunday was his excellent interception (his first this season) of a pass made my John Friesz in the fourth quarter. The Seahawks were on a driving run trying to make a touchdown in the last two minutes of the game. If they had, the Broncos would have had to struggle to catch up before the last two minutes, possibly causing the team to lose the game or go into overtime. The quick timing of Cadrez's catch gave the Broncos some leeway in the last two minutes and secured another victory. Cadrez is an underemphasized asset to our team, and we at the BroncosLuver website are extremely proud of him.


Other Players of Note Rod Smith caught 8 passes, running for an amazing 136 yards. Terrell Davis had his second straight over-200 yard game, and scored another touchdown to put his total to 9 this season. He is the Denver Broncos' all-time scorer in one season. Shannon Sharpe scored another touchdown, putting his season total to 5 receiving touchdowns.


Player of the Week for 10/4-10/10: Terrell Davis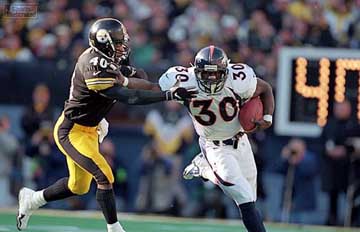 Why?
Terrell Davis was named AFC Offensive Player of the Month for Septermber 1998 for his outstanding rushing record. In the month of September, Davis rushed for 489 yards and 6 touchdowns, rising above all NFC and AFC players in these categories.

Terrell also played an amazing game on Sunday against the Eagles. Although he only played during the half of the game, Terrell racked up 168 yards with 20 carries in the first half, and over 100 yards in the first quarter alone. This was the second game in which he rushed for over 100 yards in the first quarter, and the 8th time that he has earned 100 yards in the first half. It is his fourth consecutive game over 100 yards. We are so proud of you TD, and if you keep this up, you will definitely earn the most NFL Rushing Yards of the Season.

Other Players to Note
Rod Smith played an excellent game, scoring two receiving touchdowns for the first time this season. Bubby brister succeeded in starting another victorious game without Elway (but we still need you, John). Shannon Sharpe and Ed MacCaffrey both scored 1 touchdown.




Player of the Week for 9/27-10/3: Bubby Brister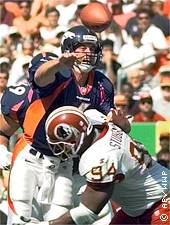 Why?
Bubby Brister is the first player since Gary Kubiak (1989) to lead the team to victory in a game that Elway did not open. Brister has been playing with surprise aplomb and confidence, considering the fact that the majority of the Broncos look to Elway for guidance during the games. He was 16 of 24 in passing, had 180 passing yards, and passed 2 receing TDs. More incredible is the fact that Brister hasn't opened a game since 1995. Good job, Bubby!

Other Players to Note
Darrien Gordon intercepted a Redskins' ball and returned it for a 55-yard TD. Ed McCaffrey completed 72 passing yards and had one TD. Terrell "TD" Davis scored another 6 points with 1 TD and 119 rushing yards.



Current Player of the Week


Back to Broncos Page