My Poor Babies!
A page devoted to the injuries players on the Denver Broncos. Feel better, guys!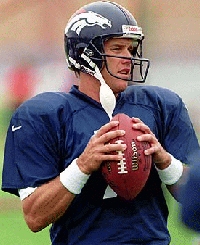 Straight from the horse's mouth. . . According to the Official Broncos Website, the following players have found their way onto the injuries list and are listed as. . .

Out
None

Doubtful
None

Questionable
S Tyrone Braxton (shoulder)
S Eric Brown (groin)
TE Dwayne Carswell (ankle)

Probable

WR Justin Armour (hamstring)
S Steve Atwater (shoulder)
LB Keith Burns (thigh)
CB Ray Crockett (ankle)
G David Diaz-Infante (knee)
QB John Elway (ribs)
CB Darrien Gordon (ankle)
WR Willie Green (hamstring)
RB Howard Griffith (knee)
DE Harald Hasselbach (ankle)
CB Darrius Johnson (ankle)
T Tony Jones (knee)
RB Derek Loville (shoulder)
WR Ed McCaffrey (hamstring/finger)
G Dan Neil (knee)
LB Bill Romanowski (shoulder)
P Tom Rouen (shoulder/wrist)
G Mark Schlereth (knee)
TE Shannon Sharpe (knee)
DE Neil Smith (abdomen/flu)
DT Keith Traylor (back)
DE Marvin Washington (neck)

I think the real question is: Who isn't injured? Maybe we should just make a list of the fortunate ones for time's sake.




Back to the BroncosLuver Homepage